The close relationship between painting and photography from its origins (use of the darkroom by painters, the study of light, composition of 'framing etc …) has convinced me to work with children on these two media together.
Through a playful approach, the kids have learned some of tricks of digital photography.
After the visit of the Alinari Museum, tracing the history of photography, they've met some of its protagonists.

Continue the photo… (charcoal)
In the studio,  the work of the great photographer André Kertész was the starting point for works with  charkcoal.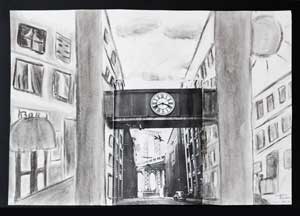 SELFS-PORTRAITS (mixed media)