BASIC LEVEL (1 trimester – 12 lessons)
COPY FROM OLD MASTERS
In the first step, I teach how to use the different pencils, copying drawings from old Masters  gradually focussing on the study of lights and darks, proportions and mesures.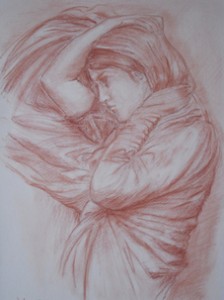 DRAWING STILL-LIFE
In this second phase, we begin to work from life still-life with few objects, then  compositions of more complex and larger formats.
 The idea is to arrive gradually to a tridimentional perception of the form. In this phase, we also use other material such as sanguigna, charcoal on different papers so to change mode of working.
THE PORTRAIT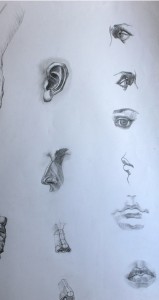 Then, we study the figure through anatomical details such as the eye, nose, mouth and ears, to understand their volumetric aspects starting from plaster casts and drawings.Then we study full-face in its different positions, focusing on the study of anatomy, plans and proportions.
ADVANCED LEVEL (1 trimester - 12 lessons)
ANATOMY OF HANDS AND FEETS
We then also study the elements of the body such as feet and hands, before study full figure.
PROPORTION OF THE BODY
When all the parts of the body are understood, we  study the structure of the human body with  theorical analysis of the anatomical schema.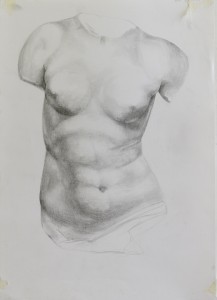 Every trimester, 2 or 3 lessons are dedicated to drawing from life models. We work with long poses and short poses that help to coordinate eye and hand, to train the visual memory and perception of the figure in space.
ADVANCED LEVEL
PERSONAL PROJECTS
MIXED MEDIA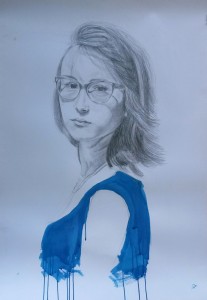 More advanced students can choose to work on personal projects in big size in mixed media. Graphite or charcoal are very suitable to be mixed with other techniques such as china, acrylic etc…
DRAWING FROM PHOTOS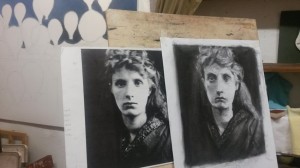 A big collection of reproductions of photographs is available in the studio for those who want to work even from black and white images of various subjects (figure, animals, flowers, etc …) and with various techniques (in negative etc …).